The LITTLE DIVER series.
no's 70,71,72,73,74,75.on the main picture.
This unique design was developed by Sperry Lures in 1988 and was origionally produced in resin.It features a Kona type nose,is ballasted and incorporates our "Hydro-groove" head modification.The centre hole is off-set to exit at upper front and centre back.A complex lure to build means it is relatively expensive but it performs well on Yellowfin tuna.Centre hole is lined with PVC to lessen trace wear.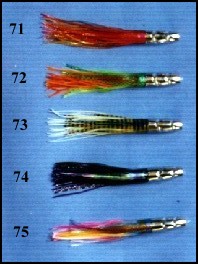 Weight: around 120 gms(4.25 oz).------------------ Length: 185mm approx. (7.3 inches).
Speed: troll 7 to 12 knots.
Action: Occaisional pop ,then dive,release bubble trail,slight meandering swim,then pop
again.
Rigging: running trace.----Trace: up to 250 lbs.----Hook size: 8/0.----Skirts: glued on.
Target species: Yellowfin,Albacore,Marlin,Mahimahi,Wahoo,Yellowtail Kingfish,Spanish
Mackerel,and other pelagics.
skirt colour choice by lure number from photo.
For ordering and contact information click here. --To return to catalogue page click here.
To return to Home Page click here.
-------------------------------------------------------------------------------