Lures numbered 1 to 38 are the SPERRY MARAUDER series.
These lures are a legally protected design and registered with the NEW ZEALAND and AUSTRALIAN PATENT AUTHORITIES.
Fishing Method: Troll. - all models.
Cast and Troll: M150;M130;M100;M75.
Action in the water:- These lures pop every few seconds.They then dive under the surface and
leave a good bubble trail.When the air bubbles are nearly exhausted the tail shakes quite
vigourously until the lure pops again.The overall action is similar to a frightened bait fish trying to escape a predator.The smaller versions can be successfully cast and retrieved(fast).
SPERRY MARAUDER. M 200 SERIES.
Available rigged or unrigged. ..Length: approximately 20cm.(8 inches.)
Trace size: up to 400lbs. (mono recommended.) Rattle of lead shot built in.
Centre tube:PVC for minimal trace wear.Colours: Hand spray painted with two-pot clear top coat.Ballast: Lead/water/closed cell foam...Base material: A.B.S. plastic.Very durable.
Recommended hook size: 10/0,11/0...Rigging system: RUNNING TRACE:
a):Single or gang hook rigged so eye of hook is just clear of rear of -lure.(there is a recess in the tail to accomodate a sleeve.
b):Insert small skirt in tail recess and rig single hook within the skirt.(see photo)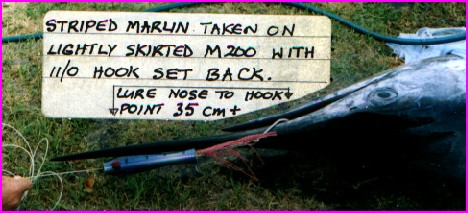 c):Rig small baitfish or slice bait with single hook and then run trace through lure,drawing nose of bait into lure tail recess.
Note: The above rigging systems are I.G.F.A. approved.
Target species with the MARAUDER 200 are Striped Marlin/Blue Marlin, Mahimahi and Mako shark.We have also caught Yellowfin and Albacore tuna and Yellowtail Kingfish on these lures.
Another interesting feature of these lures is an internal capacity to store and release fish oil.This feature is being gradually introduced to the M 200 range.
For ordering infomation click here. (to order form page) or other enquiries.
To return to catalogue page click here. (order by lure number.)
To return to home page click here.
-------------------------------------------------------------------------------
---
SPERRY FISHING LURES.
Copyright © 1997 [ SPERRY FISHING LURES]. All rights reserved.
Information in this document is subject to change without notice.
Other products and companies referred to herein are trademarks or registered trademarks of their respective companies or mark holders.