The TORPEDO 150 gram.
no's 50 to 59 on main picture.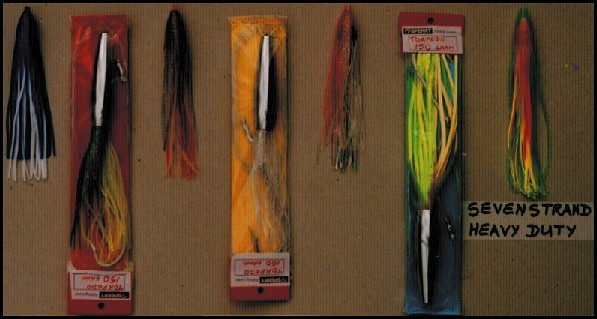 This lure series is very popular as a reliable Yellowfiin tuna lure.It uses the same "plug - in" rigging system as our "mini lures" but utilises larger skirts,typically Yo-Zuri and Sevenstrand and Big T , 6 to 8 inch sizes.It is also being increasingly used by commercial tuna trollers,who like its weight,subsurface running characteristics and ease of re-skirting.Excellent on Albacore.
Construction: Lathe turned chromed brass.------------Weight: 150 gm (approx) 5.3 oz
Trolling speed: up to 15 knots.-----------------Action: Straight runner,tolerant of big seas.
Trace: up to 3mm diameter.--------------------Rigging system; running trace.
Hook size: up to 9/0. (or for commercial fishers-10/0 twin hook.)
Available rigged or unrigged;or heads only.
Skirt selection:by lure number :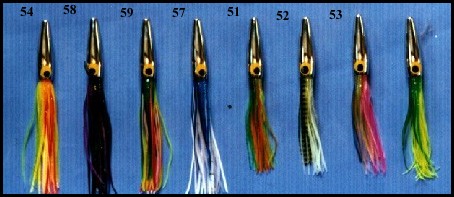 For ordering and contact information click here.( click goes to order page.)
To return to catalogue page click here.
To return to Home Page click here.
-------------------------------------------------------------------------------